Release Date:
Thursday, October 11, 2018 - 12:15pm
A renowned University of Arizona pulmonary physician-scientist whose research and clinical interests focus on severe asthma, Monica Kraft, MD, is featured in four articles with videos in MD Magazine and its online presence at mdmag.comrelated to her participation at the 2018 CHEST Annual Meeting, the yearly conference of the American College of Chest Physicians, in San Antonio, Oct. 6-10.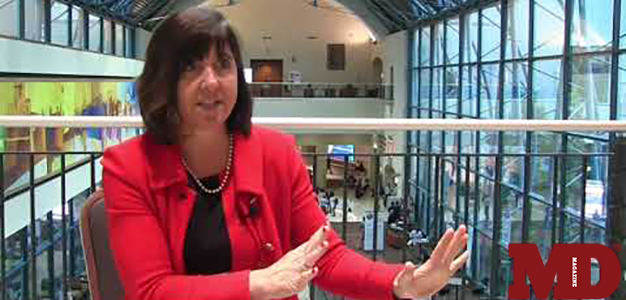 Dr. Kraft is professor and chair of the UA Department of Medicine, the Robert and Irene Flinn Endowed Chair of Medicine at the UA College of Medicine – Tucson, and deputy director of the UA Health Sciences Asthma and Airway Disease Research Center. She is also a member of the National Institutes of Health's National Heart, Lung, and Blood Advisory Council and a past president of the American Thoracic Society.

The articles and videos in which Dr. Kraft is featured appear on the magazine's website on Oct. 8-11 as part of the publication's CHEST conference coverage. They include:
Oct. 8, 2018: "Dupilumab's Two-Fold Targeting" | More than a week before the U.S. Food and Drug Administration rules on the supplemental biologics application of dupilumab (Dupixant), what makes the monoclonal antibody so enticing to the asthma community? — https://www.mdmag.com/conference-coverage/chest-2018/monica-kraft-md-dupilumabs-twofold-targeting
Oct. 9, 2018: "Steps Leading Up to Treating Severe Asthma" | Before biologics are implemented, what should physicians be doing to ensure asthma control in their patients? — https://www.mdmag.com/conference-coverage/chest-2018/monica-kraft-md-steps-leading-up-to-treating-severe-asthma
Oct. 10, 2018: "Finding, Fighting Comorbidities in Severe Asthma" | Why delving into the symptoms of the most at-need patients is critical for care — https://www.mdmag.com/conference-coverage/chest-2018/monica-kraft-md-finding-fighting-comorbidities-in-severe-asthma
Oct. 11, 2018: "The New Biologics Entering Asthma" | The 2019 CHEST Meeting in New Orleans may be headlined by newly approved therapies including dupilumab and tezepelumab — https://www.mdmag.com/conference-coverage/chest-2018/monica-kraft-md-the-new-biologics-entering-asthma