Release Date:
Tuesday, January 8, 2019 - 9:45pm
The lineup is set for the Weekly Colloquium on Problems in the Biology of Complex Diseases, which once again features several speakers and topics of interest to University of Arizona Department of Medicine physicians and investigators. This includes DOM faculty Drs. Xingnan Li, Deb Meyers, and Gene Bleecker, who will address genetic, genomic and precision medicine issues in their talks.
The spring lecture series, which runs through April 26, is hosted by the UA's Arizona Center for the Biology of Complex Diseases (ABCD), which explores major biomedical challenges regarding diseases such as asthma, cancer, cardiovascular and metabolic disorders, neuro-degenerative and neuro-developmental diseases.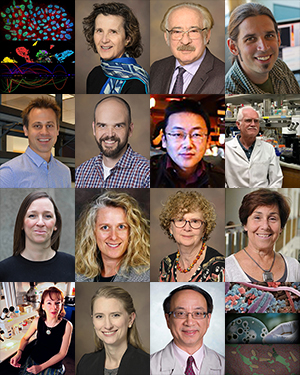 [Drs. Xignan Li, Deb Meyers and Gene Bleecker, with the UA Division of Genetics, Genomics and Precision Medicine] From left, Drs. Xignan Li, Deb Meyers and Gene Bleecker, a faculty member and co-chiefs for the UA Division of Genetics, Genomics, and Precision Medicine, are among colloquium speakers. Drs. Meyers and Bleecker also are co-directors of the Division of Pharmacogenomics in the UA Health Sciences Center for Applied Genetic and Genomic Medicine.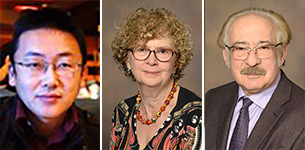 The UA College of Medicine – Tucson lectures are held in conjunction with the departments of Cellular and Molecular Medicine, Molecular and Cellular Biology, Genetics, Immunobiology, and Pharmacology and Toxicology (in the UA College of Pharmacy).
[Dr. Donata Vercelli] The ABCD is led by Director Donata Vercelli, MD, who'll offer an "Introduction and Overview" lecture to launch the series on Friday, Jan. 11, 9-11 a.m., in the UA BIO5 Institute, Thomas W. Keating Bioresearch Building, 1657 E. Helen St., Room 103—except for the March 1 lecture, which will be in BIO5 Room 247. Dr. Vercelli is also a professor of cellular and molecular medicine, associate director of the UA Health Sciences Asthma and Airway Disease Research Center and a BIO5 member. This and other lectures in the series are scheduled as follows:
Weekly Colloquium, Spring 2018 – Problems in the Biology of Complex Diseases
(CMM, MCB, GENE, IMB, PCOL 595H)
Fridays, 9-11 a.m., Keating/BIO5 Room 103, Jan. 11-April 26
SPEAKERS SCHEDULE:  Click here [PDF] for a printable version. See "Event listing" link below to add to your personal schedule (via iCal, MSOutlook, Google or Yahoo! calendar).